Fun, easy-to-use activity challenge platform for companies.
It's engagement made easy! Employees can use any device and interact using our iOS or Android app.
Join the 2,000+ companies making fitness fun at their organization.



A variety of challenge types for a range of fitness levels
Whether your group is ultra competitive or just looking to encourage individual improvement, our challenge modes support a variety of group needs. Keep things interesting by competing on more than just steps. Create a challenge for steps, distance or active minutes.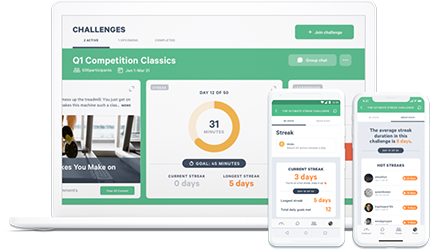 Streak
Participants track the number of consecutive days they meet a specified activity goal. A great way to build healthy habits.
Example: Each individual should try to reach 30 active minutes a day for two weeks.
Good for: Individual Motivation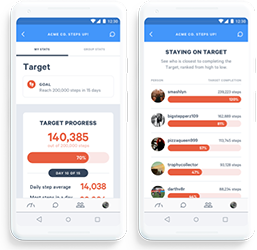 Target
Set a total steps, minutes or distance goal for the challenge. Participants track their daily pace to make sure they reach the target goal before challenge end.
Example: Everyone in the group has a target goal of reaching 35 miles in 10 days.
Good for: Individual Motivation | Competition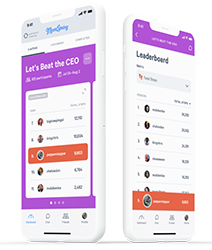 Leaderboard
Leaderboard allows competitive steppers to achieve ultimate glory by making it to the top of the leaderboard. Participants are ranked from high to low based on their steps, distance, or minutes moved. A fitness competition classic!
Example: Everyone in the office is competing to see who can get the most steps this month.
Good for: Competition | Smaller Groups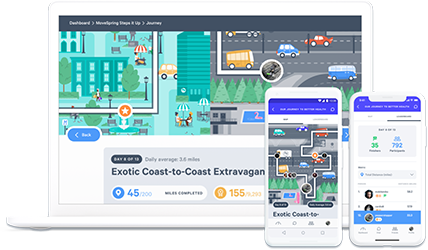 Journey
Complete in a virtual, long-distance race. Track progress in real time as you move along the journey path. Experience fun surprises and milestones on your way to the finish line!
Example: Complete a 99 mile journey across the Florida Keys.
Good for: Individual Motivation | Competition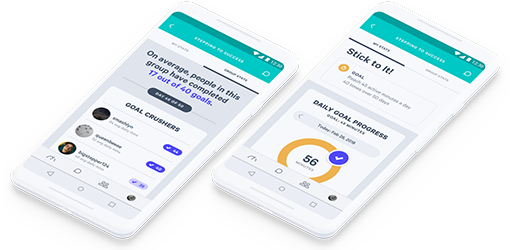 Stick To It
Ease into a healthy habit. Set a daily activity goal, then determine the total number of times you want your users to meet it over the course of a challenge. It's okay if you miss a few days!
Example: Reach 30 daily active minutes 20 times over the next 2 months.
Good for: Individual Motivation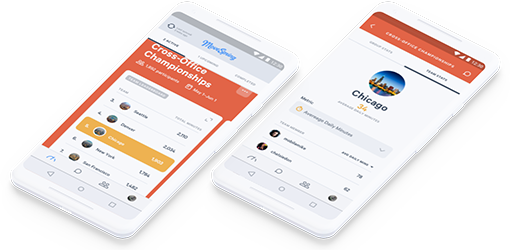 Team Leaderboard
Each participant joins a team that works together to claim the top spot. The team with the highest daily activity average wins. Option for users to create their own teams.
Example: Each department creates a team and competes to see who will get the highest daily step average.

Good for: Group Collaboration | Competition
Group Target
Group Target combines all participants' steps, distance or minutes into one score. Set a total activity goal for the group to reach over a longer period of time.
Example: As a group, collectively reach 1 million steps over 15 days.

Good for: Group Collaboration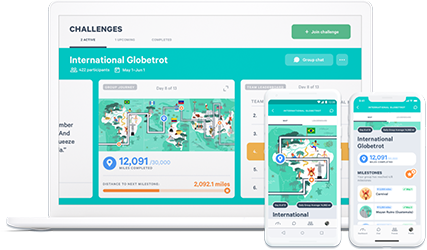 Group Journey
Group Journey combines all participants' distance into one score. Set a total journey distance and move as a group through a fun, illustrated map. Unlocked milestones and new scenes together!
Example: Everyone works together to complete a 5,000 mile journey across the world.

Good for: Group Collaboration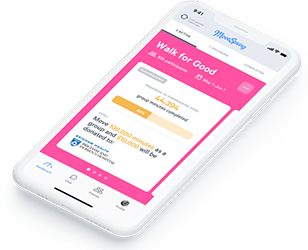 Group Target Fundraiser
Group Target Fundraiser combines all participants' steps, distance or minutes into one score. Once the group achieves their goal, a donation will be made to a cause of your choice. Set the donation amount, donor and recipient.
Example: A donation of $1,000 will be given to American Cancer Society when the group achieves a total of 10,000,000 steps.

Good for: Group Collaboration
Making fitness fun for everyone
Our gamified activity challenges keep the competition fun, friendly and motivating for every fitness level.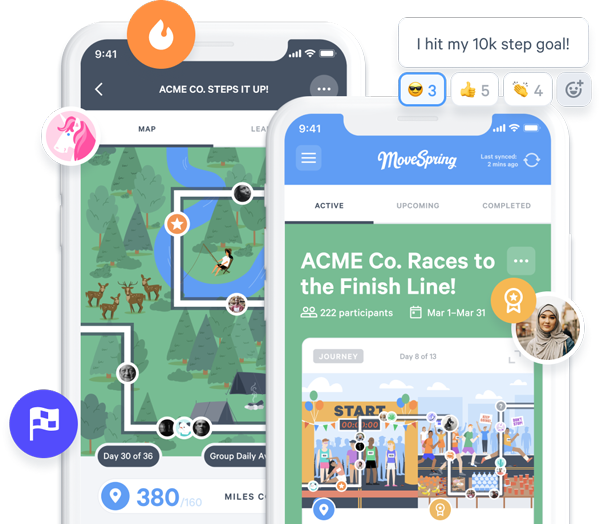 Let your group members
choose their device
We know one device isn't made for everyone. We integrate with the leading providers, covering 90% of the consumer wearable device market.

A simple, easy-to-use admin center
User Management
Easily filter, tag and manage users. Quickly identify people who haven't synced, connected a device, or are reporting a low level of activity or engagement.
Easy Challenge Creation
Create a challenge group in less than 60 seconds. Select from nearly 10 challenge modes and a variety of engagement tools.
Reporting
Download reports to see group performance & engagement, view data on individuals & teams, and track progress over time.
Content Management
Upload and strategically schedule your own content. Choose from 3 different content formats: video, article/webpage, and post.


If you're looking for a platform that is easy to implement and easy for the employee to use, MoveSpring is it! Their team is great at working with you to determine what your needs are and offering suggestions for programs and how those programs can work for your company. - Susan C., admin at a mid-sized company

I would highly suggest this platform to anyone looking to find an affordable and easy to use step challenge platform for the office. Implementation was incredibly easy and I've never dealt with an unresponsive MoveSpring employee. - Jessica B., admin at a mid-sized company

Movespring mobilised very quickly at short notice and was able to onboard and create our tailored challenges within a week [...] They were hugely supportive and gave us tips about what works well in relation to communications, potential prizes and were willing to flex [...] to adjust to the additional needs of some teams. - Admin at a mid-sized financial firm

The customer service has been wonderful. The team is very responsive and has allowed me to set up some wonderful activities for my employees. The site and the app are also very easy to use and the challenges are great! - Admin at 10,000+ person employer
An easy-to-use wellness platform for happy, healthy employees.
Promote physical activity, boost culture, and educate your employees on key health actions with the MoveSpring platform.